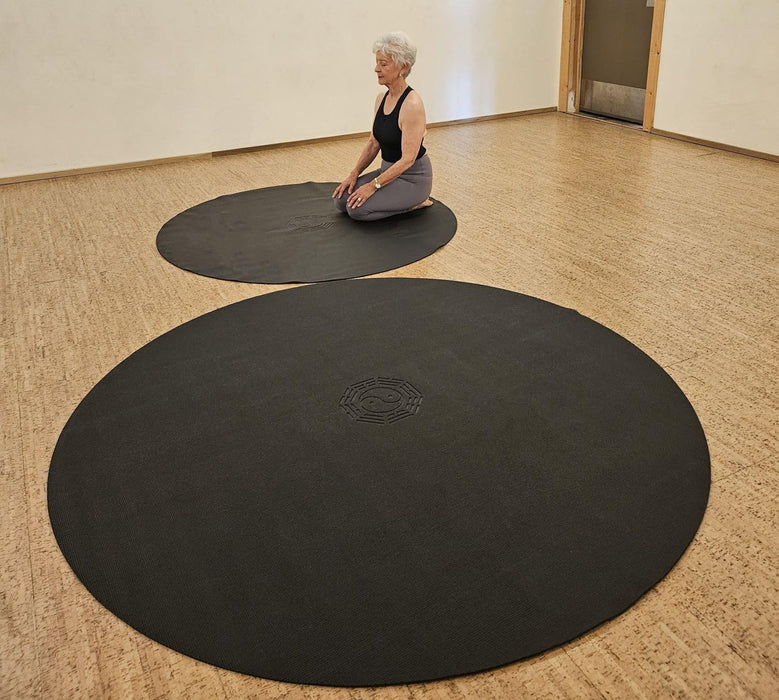 SCHRINER Pro Large Round Yoga Mat 6' x 8mm for Exercise Premium Extra Thick, Ultra Comfortable, Non-Slip, Meditation Mat Black
SCHRINER Pro Large Round Yoga Mat 6' x 8mm for Exercise Premium Extra Thick, Ultra Comfortable, Non-Slip, Meditation Mat Black
Color Black
Brand SCHRINER
Material Polyvinyl Chloride Foam
Product Care Instructions Hand Wash Only
Product Dimensions 71"L x 71"W x 0.31"Th
Item Weight 154 Ounces
About this item
3/8 INCH THICK Round Yoga Mat. Ultra comfort and support on feet and ankles. Perfect for barefoot exercises or light exercises with shoes.

6 FEET ROUND Stylish shape. Look great in any room.

PREMIUM QUALITY Made with only the highest quality non-toxic eco-friendly material. Guaranteed to never peel, fade, or crack.

ULTRA COMFORT Works great for kids yoga, stretching, workout, pilates, exercise, or baby play mat.
Product information
Item Package Dimensions L x W x H ‎71 x 4.9 x 4.9 inches
Package Weight ‎4.6 Kilograms
Item Dimensions LxWxH ‎71 x 71 x 0.31 inches
Item Weight ‎154 Ounces
Brand Name ‎SCHRINER
Color ‎Black
Material ‎Polyvinyl Chloride Foam
Manufacturer ‎SCHRINER
Size ‎Large
Sport Type ‎Exercise & Fitness, Yoga
B2227