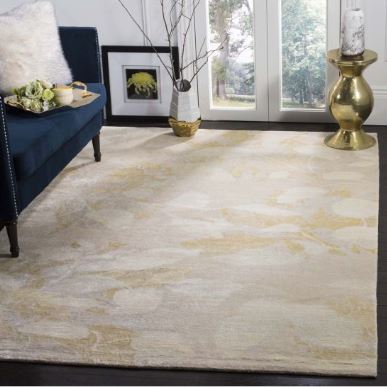 Size 6' x 9' Safavieh Tibetan Rug Collection: - Creme / Yellow
Size 6' x 9' Safavieh Tibetan Rug Collection: TB955B - Creme / Yellow
Description:
Ancient weaving techniques and the finest materials are used in crafting the penthouse-chic rugs of the Tibetan Collection. The geometric patterns, florals and retro imagery of Tibetan area rugs are masterfully accented with subtle shimmering hues and neutral earth tones. Made of pure premium wool and hand-knotted for the ultimate in luxury and durability.
Product Info:
Brand Safavieh
SKU TB955B
Style Transitional
Care Notes Vacuum thoroughly at least once a week with a canister vacuum. Do not engage beater bars. Rugs placed in high traffic areas of the home or exposed to household pets should be vacuumed more frequently. For rugs that are relatively easy to handle, bring them outdoors and shake vigorously to remove excess debris. Rugs placed in high traffic areas will wear faster than those in lesser tread-upon locations; rotating a rug every few months will distribute any wear and fading evenly.
Material Cotton
Color Creme / Yellow
Construction Hand Knotted,20% Wool, 70% Viscose, 10% Cotton, India
Size Width 6' inches Size Length 9' inches
Size Height 0.12" inches
Disclaimer Sizes may vary slightly.
N6459-2