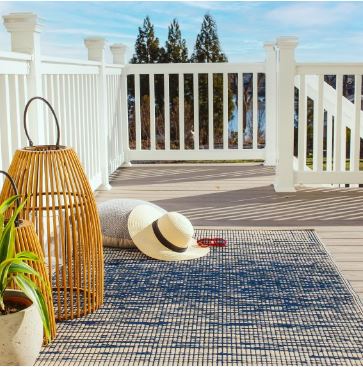 Size 6' x 9 Brooklyn - Blue Abstract Outdoor Rug for Patio
Size 6' x 9 Brooklyn - Blue Abstract Outdoor Rug for Patio
Note: Please Note This Rug Has Damage On It
Please See The Photo Below Of The Damage Below But Otherwise Is In Good Condition.
Made from premium recycled plastic, this Brooklyn Blue Abstract Outdoor Rug is the classic, durable piece that's exactly what your outdoor space is missing! Shades of navy and beige come together to create an abstract design that's equal parts bold and beautiful—making it an elegant choice for any patio, deck, porch, balcony, and beyond. But why leave all the fun outside? You can even bring it indoors to a laundry room or mudroom for a family-friendly addition that's super easy to clean. The waterproof, fade resistant, and crease-free Fab Habitat outdoor rug can be rinsed off with a hose to remove dirt or stains.
Product Details
Outdoor rugs made from 100% recycled premium plastic tubes and they are also recyclable
Waterproof rug that do not absorb moisture. Perfect for patios, decks, balconies, beach, camping trips, RVs and campers
Reversible, stain resistant and UV resistant
Shipped rolled without folds or creases for an elegant look
Elastic bands included for neat storage. Come with an eco-friendly carrier bag
GoodWeave certified which mean our rugs are child-labor free
Child and pet friendly
can be used in high traffic areas such as mudrooms, laundry room, and playrooms
Care Instructions:
Washable: Just shake or hose off with water & mild detergent. Since moisture is not absorbed by the rug, your rug will dry off quickly in the sun.
D2421-1